---
Hello friends, today we are going to talk to you in this article about the "Coin Switch kuber", for your information, let me tell you that coin switch is a full platform for three years, but it was on the basis of the cryptocurrency exchange mobile application in India last month. It has been launched, and the application has received a very good response from Indian users, and so far 100,000 users have signed up for this application. Which is excessive as expected. The younger generations of India are showing more interest in this application if you also want to know all kinds of information about this application in detail? So stay with us, because you are going to get to know a lot more.
What is Cryptocurrency?
Before starting the article, let us know what cryptocurrency is after all. Nearly 10 years ago, the price of a digital coin was zero "0", and today it has touched the price of 15 lakh rupees. Yes, we are talking about the world's most famous cryptocurrency bitcoin. Bitcoin has touched its highest price to date, due to which once again bitcoin has come into the discussions. Some time ago the Reserve Bank of India banned cryptocurrency in the country, but recently this crypto ban was removed, and now you can feel free to invest in cryptocurrency. Now you must be thinking about how to invest and what is the way? You will get to know the answers to all these questions.
CoinSwitch Kuber What's this?
The CoinSwitch Kuber platform is a cryptocurrency exchange mobile application designed specifically for cryptocurrency. With the help of this application, you can buy and sell cryptocurrency very easily. This is a platform on which you can buy and sell in a very short time. The special feature of this application is that you can easily BUY and SELL cryptocurrency using the Indian rupee (INR) in it, and the best part is that you can buy for just ₹ 100, here to get you started Thousands of millions of rupees are not required.
How to download CoinSwitch Kuber app?
CoinSwitch Kuber app is available on Google Play store, if you want to download the CoinSwitch Kuber app then you can download it by clicking on the link given below, you will get a bitcoin of 50 rupees by downloading from our given link. . To get Bitcoin for free, CoinSwitch Kuber App Download from our given link.
The easiest way to buy/sell 100s of crypto. Signup on CoinSwitch Kuber using my referral and the first 10 users get Rs. 50 Bitcoin Free Bitcoin (BTC).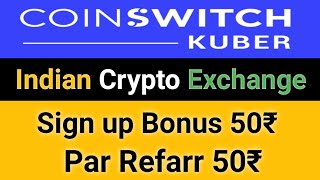 How to use CoinSwitch Kuber App?
CoinSwitch Kuber application is very easy to use, you only have to follow 6 steps.
Step 1: First of all install the CoinSwitch Kuber application on a smartphone.
Step 2: Open an account with your mobile number, and do WiFi.
Step 3: Complete the KYC process (this ensures utmost security for all users).
Step 4: After having KYC, link your bank to the application.
Step 5: Now you can buy bitcoins or other cryptocurrencies for just ₹ 100.
Step 6: You also have the facility to store, send, and receive cryptocurrencies through your account.
What is unique about the CoinSwitch Kuber App?
The developer of CoinSwitch Kuber has built this application in such a way that the problems and complexities in purchasing cryptocurrencies can be eliminated. With the help of this app, both experienced and non-experienced people can buy cryptocurrency. You do not face any problem in buying cryptocurrency, you must use this app once.
There are already a lot of platforms for buying cryptocurrencies in the market, but to buy cryptocurrencies from these platforms, it costs you an extra ₹ 1000, which is more for Indian users, but you can only with the help of CoinSwitch Kuber From ₹ 100 you can invest in cryptocurrency.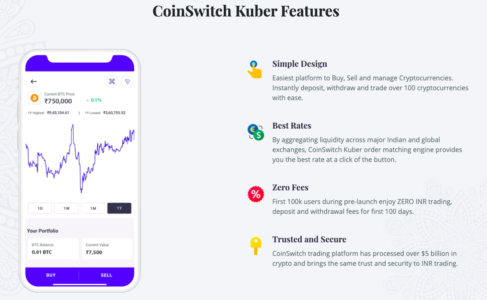 CoinSwitch Kuber Key Point
Best Rates – By aggregating liquidity in major Indian and global exchanges, the CoinSwitch Order Matching Engine gives you the best rate at the click of a button.
Instant Buy / Sell – Instantly deposit, withdraw and trade with INR with over 100+ cryptocurrencies.
Zero Fees – 100k users enjoy ZERO INR trading, deposit and withdrawal fees during the first 25k pre-launch.
Trusted and Secure – The CoinSwitch trading platform has processed over $ 5 billion in crypto and brings the same trust and security to INR trading.
Conclusion
CoinSwitch Kuber is a platform on which you can create and buy and sell cryptocurrencies in just minutes. KYC verification is very easy to do, which makes this application very easy for the Indian user. The application is completely Indian from which security can be trusted. Start investing in cryptocurrency today, CoinSwitch is in support of Kuber App. You can download the application from the link given below.